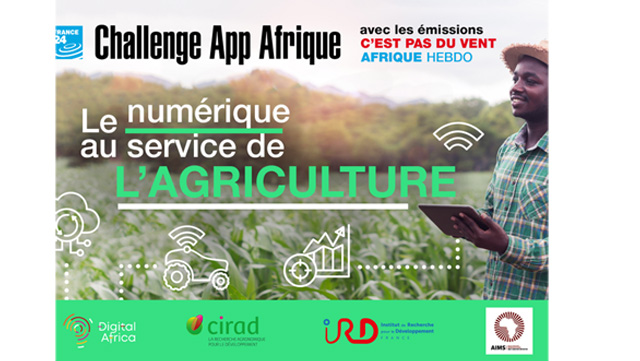 Africa App Challenge: the ten finalists of the 7th edition are known !
The jury of the 7th edition of the Africa App Challenge has delivered its verdict. The ten selected applications come from Cameroon, Rwanda, Benin, DRC, Tunisia and Morocco.
The seventh edition of the Africa App Challenge, which began on 10 November 2022, has unveiled its first ten winners. The idea this year was to imagine the digital service that will contribute to the development of sustainable agriculture. More than 800 projects were received and ten were selected to continue the adventure.
The finalists are invited to refine their projects in order to hope to be the grand prize winner of a €15,000 prize.

The selected projects are the following :
- Rabeb Fersi (Tunisia): Crop's Talk is a mobile agricultural advisory application that aims to help small farmers improve their productivity and resilience to climate change.
- Samantha Ruzibiza (Rwanda): Bazafarm, which literally means "ask your farm", is a real-time soil quality monitoring device.
- Finagnon Robert Agbovoedo (Benin): Ki@foret is a platform that links collectors of non-timber forest products and traders by supplying them with the highest bidder.
- Mbumba Lapaque (DRC): MukulimaSoko is a digital and physical trading and renovation centre offering several services to agricultural actors: an e-commerce space and a phytosanitary mutual aid space offering experts to share their knowledge and farmers to alert on agricultural hazards that have appeared in their plantations.
- Adamou Nchange Kouotou (Cameroon): OGPM (Outil de Gestion de Projet Agricole) is a digital platform made up of two applications: a mobile application that collects information for analysing agricultural technical risks, and a web application that recommends the best agricultural credit decisions and facilitates the technical and commercial monitoring of farmers' production.
- Lucien Medjiko (Benin): E-Pinea is a mobile application that connects pineapple growers to potential buyers through a dynamic map that locates pineapple fields and displays their state of ripeness in real time. It also offers an online trading space that allows processors and suppliers to display and sell pineapple products and related services.
- Chris Ayale (DRC): Kivugreen is a digital platform that provides small-scale farmers with technical information such as weather, market prices and agricultural advice - and gives them access to the market.
- Mounir Jamaï (Morocco): Daki Farm is an ecosystem of applications consisting of Daki Farm e-learning, which allows users to follow digital agricultural training courses in the local language, and Daki Farm Smart Irrigation, which allows users to irrigate crops according to the needs of the plants and the weather conditions.
- Jean Gilbert Soh Ndeh (Cameroon): Initially designed to ensure the traceability and management of wood products from the forest, Pallitracks is a digital application that also aims to be adapted to agricultural products.
- Pyrrus Oreste Kouoplong Koudjou (Cameroon): Clinicagro is an application that offers in-depth diagnoses of soils and the diseases that plants can suffer. It also provides various technical indicators related to the soil.
Launched by RFI, France 24 and their partners Digital Africa, CIRAD, IRD, AIMS, 10,000 coders and Fanaka & Co, the seventh edition of the Africa App Challenge aims to reward digital innovations that improve sustainable agriculture in Africa.
Source : France24
Les commentaires
---