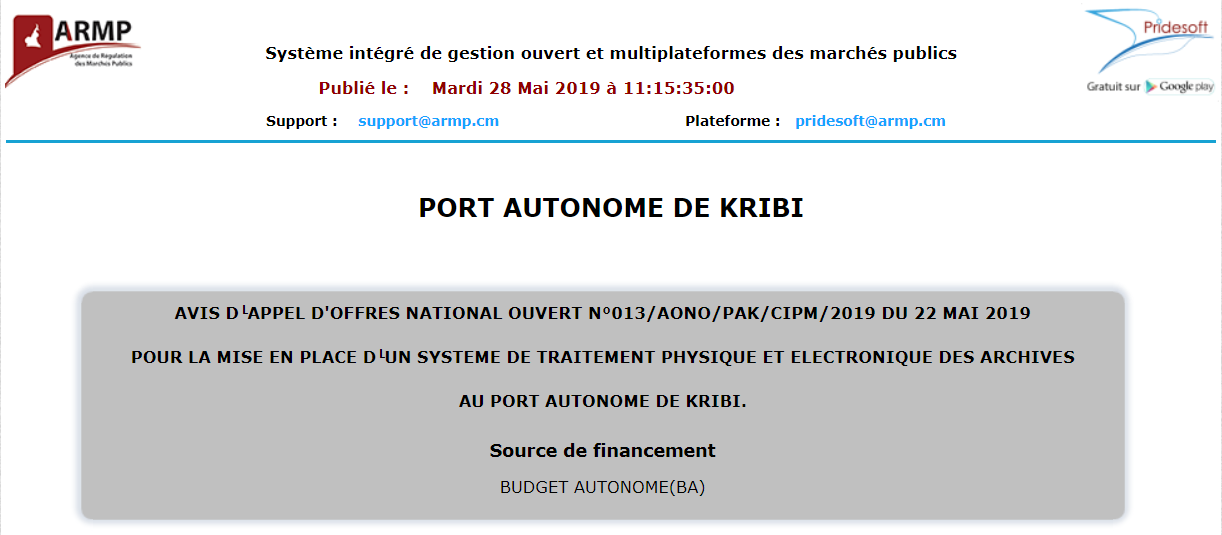 CALL FOR TENDERS
NATIONAL OPEN TENDER NOTICE N°013/AONO/PAK/PAK/CIPM/2019 OF 22 MAY 2019
FOR THE ESTABLISHMENT OF A SYSTEM FOR THE PHYSICAL AND ELECTRONIC PROCESSING OF ARCHIVES AT THE AUTONOMOUS PORT OF KRIBI.
1. Object
The Director General of the Autonomous Port of Kribi (PAK), Project Manager, is launching a consultation for the implementation of a physical and electronic archive processing system at the Autonomous Port of Kribi.
2. Consistency of services
The services of this contract will be performed in three (3) stages as follows:
Step 1: Presentation of the project implementation modalities.
This step is sanctioned by the start-up report which specifies:
    - The context and the problem of the project;
    - Understanding the mission;
    - The proposed methodology for the project management;
    - The chronogram of activities to be carried out;
    - The list of experts and staff who will be mobilized;
    - The logistics that will be used;
    - The various annexes (inventory protocol, collection sheet, survey guide, etc.).
For more information: click here
Source: ARMP