The 2nd edition of the ICT Innovation Week was held from 24 to 28 August 2020 with the consecration of the young Nervis Tetsop Nzometiah, promoter of the e-Waste 3D Printer project. A 3D printer project designed from electronic waste and which allows printing objects in 3D.
The theme of this week of innovation and the competition launched on this occasion being "Cameroonian youth facing the challenge of digital innovation, in the context of health crisis", the 3D printer of Nervis Tetsop Nzometiah aims to manufacture protective masks and face masks to fight against the spread of Covid-19. Several other objects can be printed by his 3D printer, the prototype of which won over the jury chaired by Professor Charles Owono Onana, President of the University of the Mountains.
Nervis Tetsop Nzometiah who comes from the city of Buea is getting away with a reward worth a total of 15 000 000 francs Cfa. In this reward, he receives a check for ten million Cfa francs and many prizes. The winner will also benefit from an IBM training program and will be integrated into the training platform of the Tony Elumelu Foundation.
Swi Innocent Che from Cameroon e-Translate (an innovation that allows the translation of texts from French or English into local languages - Gomala'a, for the first - ) and Rodolph Biloa Ngah from BNR Labs (an e-learning solution to visualize theories and put into practice in a virtual laboratory the teachings in mathematics, chemistry and physics), are in second and third place respectively. They walk away with a prize worth a total of 10 million Cfa francs, including a cheque for five million Cfa francs.
All 15 innovators in the competition came away with at least one award worth 2.5 million CFA francs, and the activities will be divided into lectures and debates, HC Awards, dance workshops, E-Battle, a mural fresco (Graffiti), Champion's Night and Live Music (MC Latysha and DJ Shaku).
Furthermore, the Minister applauds the support received from the Tony ELUMELU Foundation, namely the admission of 100 young people to its mentoring platform. "Thus, in addition to the 15 shortlisted young people, 85 other young people who participated in the National Competition for the Best ICT 2020 Project will be admitted to the platform. These young people will receive their registration in the coming weeks," said the Minister.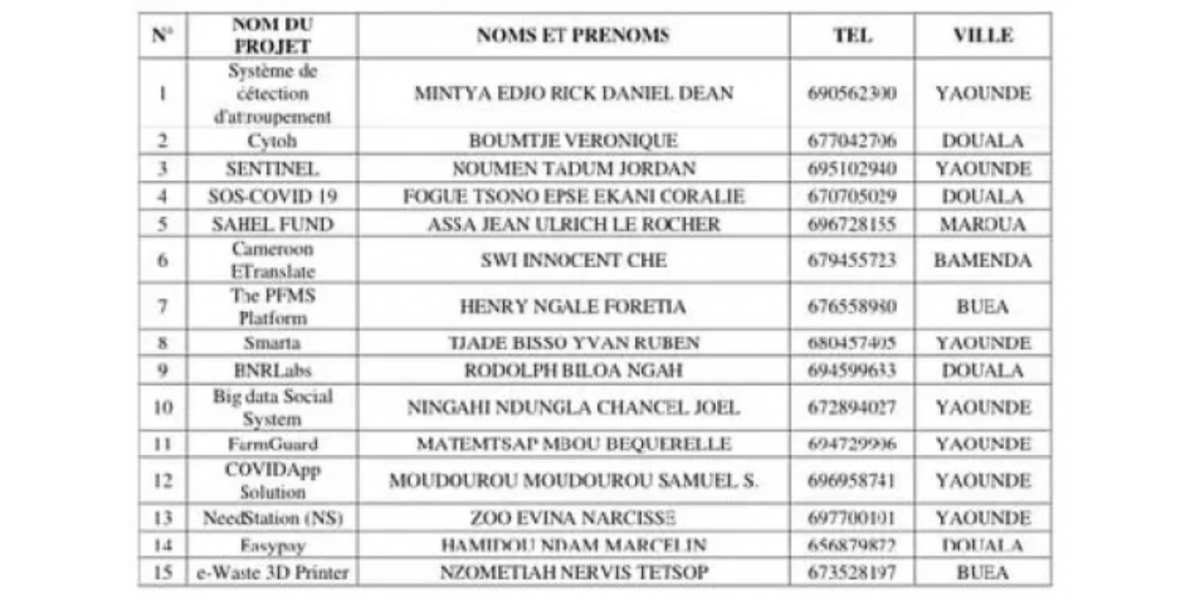 The Minister also welcomes the collaboration with IBM which will provide the Cameroonian government with an online training platform on current topics such as artificial intelligence, Big-Data, design thinking, data-mining and many others. Access to this platform will be free and unlimited over a period of one year for the winners.
Finally, the Minister promises that her ministerial department is determined to spare no effort to unearth talent and support them in their entrepreneurial drive.
Source: Digital Business Africa