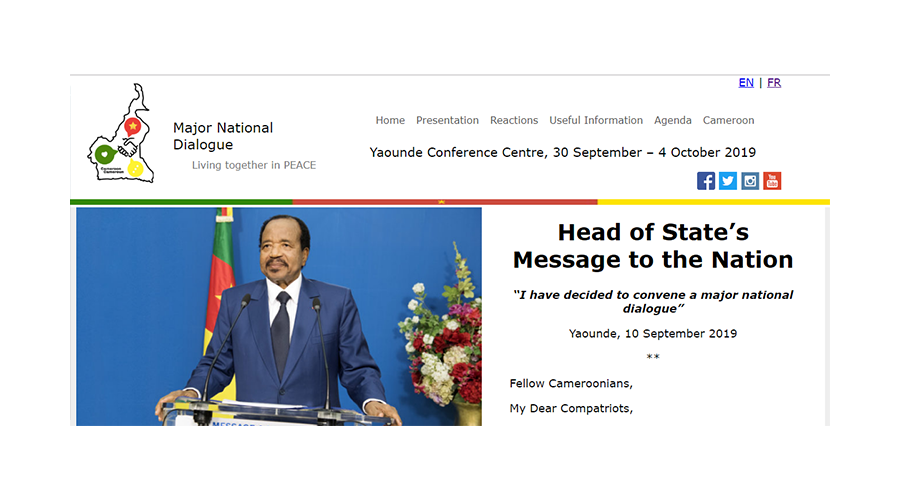 Cameroon: www.nationaldialogue.cm is the website of the great national dialogue
The site provides the main practical information: date, location, themes, participants, hotels selected for accommodation, transport arrangements, health measures and registration and accommodation arrangements.
But also in the future you will be able to have reactions, contributions, the programme, documents and news on the national debate.
What to remember for now:
Date: September 30 to October 4, 2019Location
Venue: Yaoundé Congress Centre
Objectives of the project
Mobilize all the positive and constructive forces of our country, both within and in the diaspora, around the values we hold dear: peace, security, national harmony and progress.
To satisfy the strong desire of the people of the Northwest and Southwest regions to return to the normal course of their lives and to be able to resume their economic and social activities in complete safety.
Themes
Bilingualism, cultural diversity and social cohesion, reconstruction and development of conflict-affected areas, return of refugees and displaced persons, education and justice system, decentralization and local development, demobilization and reintegration of ex-combatants, role of the diaspora in development...
Participants
The Grand National Dialogue is intended by the Head of State as a dialogue bringing together, without exception, the daughters and sons of Cameroon:
Accommodation: 4 hotels
Contributions or participation can be sent to the following address: contact@nationaldialogue.cm ;
For more information: www.nationaldialogue.cm