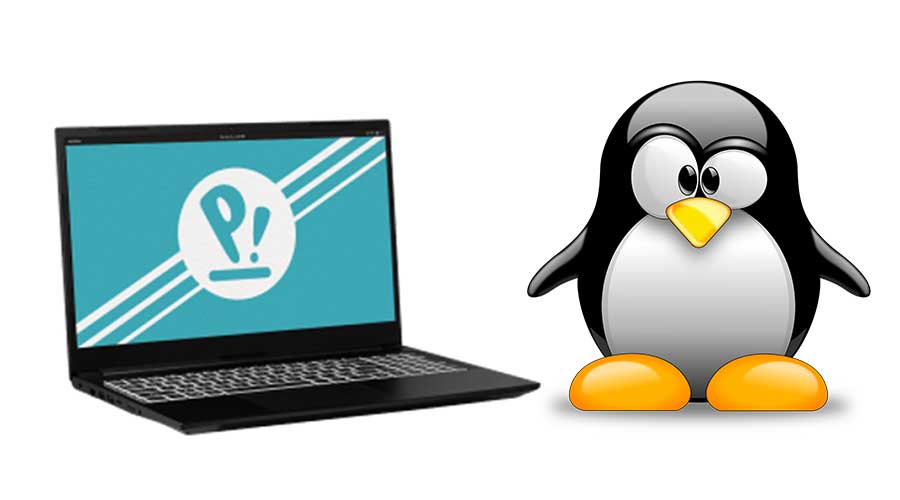 Linux: the System 76 Pangolin laptop is available
While the delay in the deployment of Linux distributions on laptops compared to Windows continues to be debated, the manufacturer and seller of desktop computers delivered with Linux, makes a big announcement about the hardware. The System 76 Pangolin laptop with AMD Ryzen mobile processors is available.
System76 is a manufacturer and seller of laptops, desktops and servers running a Linux-based operating system. Being able to boot on operating systems such as Pop! _OS 19.04 (64-bit), Pop! _OS 18.04 LTS (64-bit) or Ubuntu 18.04 LTS (64-bit), shortly after the release of the Thelio Mira computer, System76 followed up with a new laptop, the Pangolin. Users who have been waiting for a fully AMD-powered experience can now do so with the release of this product.
System 76 Pangolin comes with an AMD Ryzen 7 5700U mobile processor and the user can enjoy up to 64GB of memory and 2TB of storage. It comes with a multi-color backlit keyboard with addictive touch feedback. Below are the technical specifications of the System 76 Pangolin computer:
- Operating System: Pop!_OS 21.04 (64-bit), Pop!_OS 20.04 LTS (64-bit), or Ubuntu 20.04 LTS (64-bit);
- Processor: AMD Ryzen™ 5 5500U: 2.1 to 4.0 GHz - 6 cores - 12 threads;
- AMD Ryzen™ 7 5700U: 1.8 to 4.3 GHz - 8 cores - 16 threads
- Display: 15.6″ 1920×1080 FHD, matte finish;
- Graphics: AMD Radeo graphics card;
- Memory: Up to 64GB DDR4 @ 3200 MHz;
- Storage: 1 x M.2 SSD (SATA or PCIe NVMe). Up to 2TB total;
- Expansion: 1× USB 3.2 Gen 1 Type-A, 1 × USB 3.2 Gen 2 Type-C, 2× USB 2.0 Type-A, MicroSD card reader ;
- Input: Multitouch touchpad, multi-color backlit QWERTY US keyboard;
- Networking: Gigabit Ethernet, Intel® Dual Band Wi-Fi 6, Bluetooth 5 ;
- Video ports: HDMI 2.0 (with HDCP);
- Audio: Stereo speakers, 1× headphone/microphone combo;
- Camera: 1.0M 720p HD webcam;
- Security: Kensington lock;
- Battery: Li-Ion - 49 Wh;
- Charger: 65 W, AC input 100-240 V, 50-60 Hz;
- Dimensions: 14.19″ × 9.42″ × 0.78″ (36.0 × 23.9 × 1.99 cm);
- Weight: 3.64 lbs (1.65kg).
Linux turned 30 years old on August 25, and for some users, Linux would have nothing to envy Windows as a desktop OS anymore. The Linux desktop has gone from a dismal, clumsy, unproductive state to an almost avant-garde work of art, to an elegant, productive and professional environment. A Club member, known by the pseudonym jhc58 says: "A vast majority of users will find everything they need in Linux and more. Sometimes a scanner or printer problem will arise, but it will usually be solved by the distribution community.
"What Linux lacks at the moment (if it exists, I don't know) are the interactions between the different elements, for example tablet and computer, as they exist between iOS15 and Monterey at Apple", adds the new member to the Club. For archt, an experienced member of the Club, "Linux is missing the 'big' business applications. It's a pity because some of them would just ask to be compiled under Linux (it seems that PhotoShop uses Qt). So it's a lack of will of some companies. Especially since now you can embed the libraries in a package without depending on the distribution," he says.
Statistics published by AdDuplex in July suggest a growing interest in the new version of Microsoft's Windows operating system. Windows 11 hasn't even been officially released, but it is already installed on a surprising number of PCs. The level of interest in the latest version of Microsoft's operating system is such that a large number of people are taking advantage of the Windows Insider program to try out early versions before the launch. AdDuplex's latest Windows usage figures include Windows 11, and they make for interesting reading.
The numbers come from a survey of computer users. They show that Windows 11 is installed on more systems than expected at this early stage of the game: nearly 1 percent. AdDuplex used information from about 60,000 PCs, collecting data from about 5,000 applications that use AdDuplex SDK version 2 and higher to generate the statistics. The company selects the following highlights from the latest batch of numbers, "More than 26 percent of PCs are running the Windows 21H1 update and 0.9 percent are already running Windows 11.