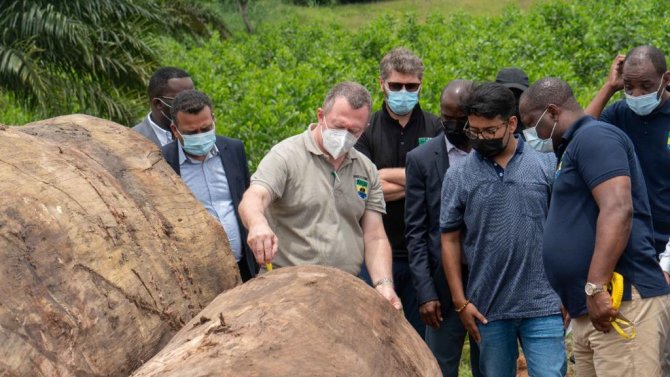 Wood traceability: Professor Lee White's system worries the sector's industrialists
Officially established last July by the signing of an order relating to it, the system of traceability of wood products called "Minef" is far from reassuring the Union of Foresters and Timber Industries of Gabon (Ufiga) which fears additional expenses and the absence of bias in the certification awarded by the administration of Water and Forests.
The "Minef", the system of traceability of wood products whose effective implementation occurred on July 23 by the signing of a ministerial order on it, does not please all actors in the sector. At Ufiga, we think that this tool is too much in the monitoring and control of forestry activities throughout the country. The organization, which has 14 certified members and claims 6,300 direct jobs and 10,000 indirect jobs in Gabon, is concerned about the initiative of the Ministry of Water and Forests.
"The additional controls of this new system are in addition to the periodic controls already carried out by the Administration to ensure the origin and legality of the timber exploited," regrets Ufiga, which believes that recourse to the General Inspection of Services would have been sufficient to correct failures in the execution of controls, in case of doubt on their effectiveness.
Better, on the subject of the certification, the industrialists of wood of Gabon think that the partiality is not necessarily guaranteed. Especially since it is the public administration that remains in control. "It would be appropriate, they urge, to respect the rule of independence as required in any certification. In this sense, the certifying body can only be external and not represented by a structure dependent on the Ministry of Water and Forests."
While they have always supported the government for this type of initiative to improve forest governance, the timber industry invites the government to "reduce administrative complexity and the additional costs it entails". The objective, according to them, is to improve the competitiveness of the forestry-wood sector.
Source : gabonreview.com