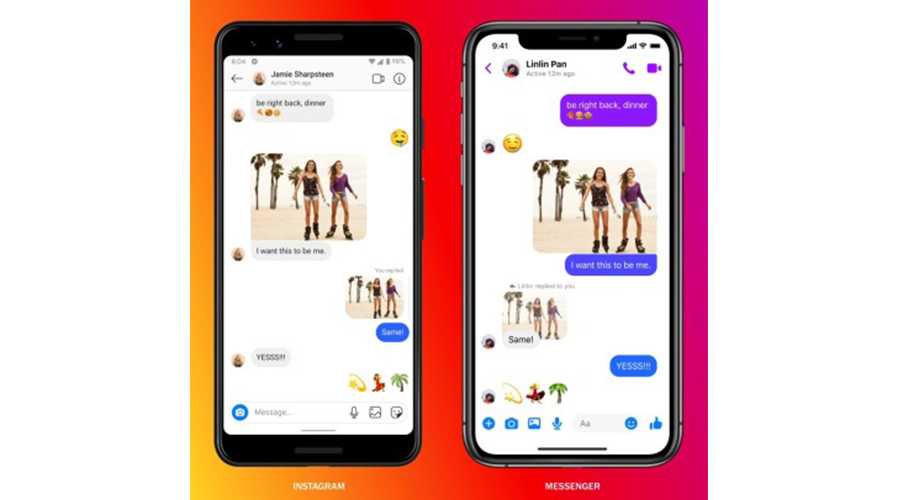 Facebook starts to integrate Messenger functions into Instagram
It is a first step towards the unified messaging system that Facebook wants to create between Messenger, Instagram and WhatsApp. It is now possible to make the first two communicate together.
Facebook has been announcing it for months. Eventually, the three messaging systems of the Californian group should be interoperable. On September 30th, the company announces the first movement of this great upheaval: Instagram integrates the functionalities of Messenger; and the two applications can now communicate together.
Concretely, it becomes possible to contact a friend on Messenger using Instagram's private messaging. And vice versa. No more need to think about which application to use to reach this or that person, they are now on each of them as well.
Messages, on the other hand, will not be synchronized between the two. If you are contacted on Instagram, the conversation will remain here, but will not be visible on Messenger.
New functions inspired by Messenger
Since the chat functions are not quite identical between the two social networks, Facebook had to make the whole thing more coherent. Globally, a large part of Messenger's possibilities is now found in Instagram.
Watch Together, for example, allows you to watch the same video from Facebook Watch, IGTV and soon Reels at the same time. The Vanish Mode proposes to automatically delete the message once it has been read. It is also possible to customize the color of the dialog bubbles or to answer precisely to a message embedded in a conversation. All of this is gradually deployed within Messenger and Instagram, first in a few countries before all users.
"This is just the beginning to stay in touch with your friends and family more easily in our applications," conclude Adam Mosseri and Stan Chudnowsky (Instagram and Messenger managers, respectively) in their release. In January 2019, it was reported that Mark Zuckerberg had asked his engineers to make his three messengers interoperable. So WhatsApp will logically be next.
Source : 01net